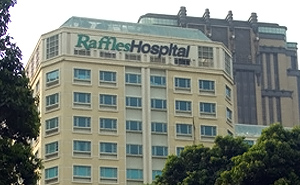 Raffles Hospital is a tertiary care hospital located just 20 minutes away from Changi International Airport and right in the heart of the city, Raffles Hospital offers a full range of specialist, medical and diagnostic services that spans across 35 disciplines. Its 16 specialist centers meet a wide variety of medical needs such as obstetrics and gynecology, cardiology, oncology and orthopedics.
The hospital is equipped with a 24-Hour Emergency and Raffles Medical at Raffles Hospital, Specialist Clinics with services spanning across 35 disciplines. The hospital's full range of medical and surgical facilities include day surgery suites, delivery suites, operating theatres, intensive care unit, neonatal intensive care unit, dental, radiology, clinical laboratory, pharmacy, dietetics and physiotherapy services.
Raffles Hospital is Joint Commission International (JCI) accredited.